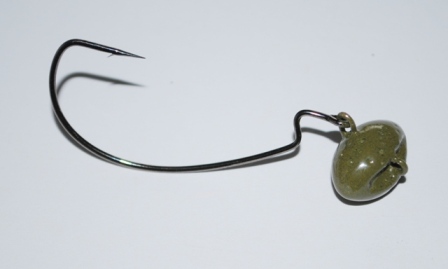 1/8, 3/16, 1/4, 5/16, 3/8, 7/16,
1/2, 5/8, 3/4, 1, 1-1/4 oz
2/0 to 5/0 hook

Swing Football Rig


$2.00 - up to 1/2 oz
$2.50 - 5/8 oz and larger

The newest version of the football jig. Any soft plastic can be rigged weedless behind the head. The head swings free from the hook and this gives a wild action to the bait every time the head bumps into a rock. Fish like a standard football jig or slowly crank along rocky banks like a crankbait.

Weights are powder painted - black, melon, gold pepper, pewter, brown, June bug - specify color preferred.